Experience Fort Worth and bring a Social Guest along for the Fun!
"In only a few days, you can enjoy an enormous range of experiences – from longhorns to longnecks, from salons to saloons. Discover the artistic masterpieces of the Fort Worth Cultural District. Explore the true American West in the Stockyards National Historic District. Shop and dine in the 35-block Sundance Square, one of the most exciting downtown areas in the nation. See a magical show at Bass Performance Hall. Stroll through the Museum of Living Art at the top-ranked Fort Worth Zoo. And that's just the beginning of what you'll experience in Fort Worth." – http://www.fortworth.com/about-fort-worth/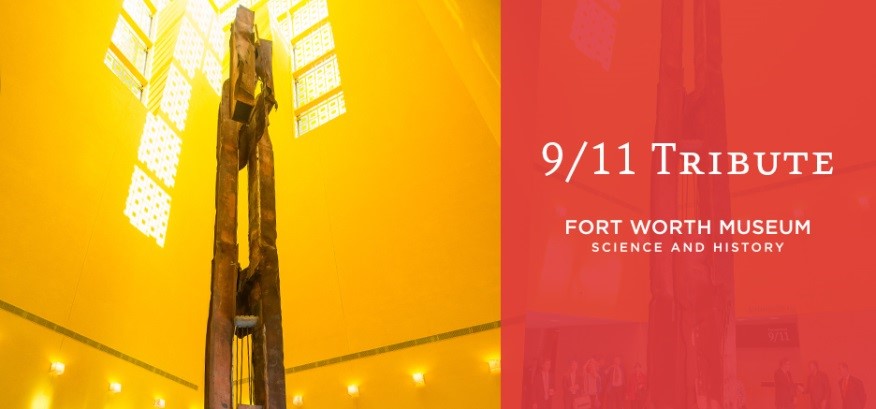 We will have opportunity to visit the Museum of Science and History (www.fwmuseum.org/) on the Conference Banquet evening Wednesday. We will be bused from the hotel and arrive at the Museum's main entry way with its powerful reconstruction of some of the remnants of the 9/11 deconstruction. You will have the chance to explore this tribute as you enjoy drinks there or in the open air courtyard. There are several other museums in this district that are also worthy of exploring on another day if you have interest.
With your free time, you can start by perhaps taking a walk to explore downtown and Sundance Square areas for restaurants, shops and just a good feel of the warm welcoming atmosphere that makes one appreciate true Texas hospitality. Downtown Fort Worth is very pedestrian friendly and you will discover many interesting stops along the way. If you prefer, you can ride Molly the Trolley (www.mollythetrolley.com). It's FREE and you can pick it up right next to the Hilton hotel for an enjoyable alternative to explore downtown or hop on/ hop off to your destination. The Stockyards is another must walk around area. It can be walked to from the hotel, but is a little far for most people (about 3.7 miles), so you may want to consider sharing a taxi for your Stockyards exploration. There will likely be a group from the conference going over on Thursday so ask around and join some friends. The Cultural (or Museum) District is about a similar distance (a little over 3 miles) and you would likely take a cab, although it can be safely walked if you are looking for exercise. In addition to the Museum we will be visiting for the banquet evening, you will find museums on Modern Art, American Art, Civil War, National Cowgirl and others. There is also a Botanical Garden and Trinity Park located just east of the Cultural District.
If you have time to explore out further and perhaps stay to add some activities to your weekend. Some ideas include:
Ride the historic Grapevine Vintage Railroad from the Stockyards to Grapevine and back for the day (www.gvrr.com). Grapevine has great shopping, wonderful restaurants, and its own interesting museums to explore.
Need more adrenaline for your Friday? Six Flags huge coasters are just down the road in Arlington TX. (www.sixflags.com)
Prefer a more gentle appreciation of nature's wonders? Check out Natural Bridge Caverns (www.naturalbridgecaverns.com)
Have some kids who can't get enough of the prehistoric creatures? Dinosaur World is a short drive away (www.dinosaurworld.com/texas)
For a bigger city experience, swing over to Dallas for the day

Take the narrated JFK Trolley Tour (www.bigdfuntours.com)
Have a way back dining experience (www.magictimemachine.com)
Or go all Medieval on it (www.medievaltimes.com)
Enjoy some laughs at the Backdoor Comedy (www.backdoorcomedy.com)

On your way back to the airport, perhaps leave time to swing out to the Cavanaugh Flight Museum (www.cavanaughflightmuseum.com). It is about 20 miles past the DFW airport. You can also book a personal ride in a helicopter, biplane, O-2A Skymaster, Skyraider, or other historic aircraft. You should call ahead and determine what is available.
… and there are so many more possibilities.
From David and me, we hope you enjoy your time in Fort Worth and Texas. Let us know or ask at the conference registration or hotel front desks if we can help with further ideas or suggestions.
Best,
Carl Byington