Conference Banquet at the Prado (Wednesday, September 30)
The conference banquet will take place at the historic Prado Restaurant in Balboa Park. Buses will leave the hotel around 5:20 pm.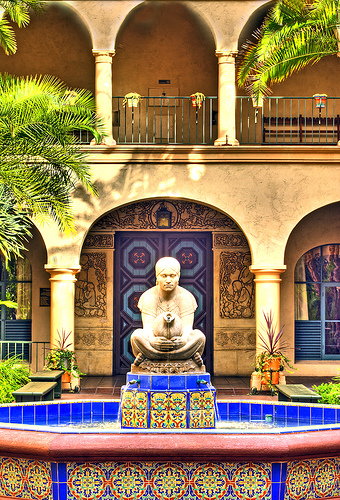 General Atomics Tour (Monday, September 28)
We are offering a tour of General Atomics on Monday, Sept. 28. A bus will leave at 8:30am from the hotel and return around noon.
The General Atomics tour is now full and we are not able to accept any additional guests. Thank you for your interest.
The tour will include demonstrations of the following facilities at General Atomics:
Magnetic Lavitation (MagLev) tracks
Urban Maglev is a new transportation solution aimed at meeting urgent needs for faster, cleaner means of passenger transport in local communities and urban areas. Urban Maglev is based on the "passive maglev" technology developed over the past decade by General Atomics (GA), with a combination of federal transit and GA company funding. GA has built the first full-scale working maglev system in the U.S., which operates on a 400-foot test track at GA's main campus in San Diego.
BioFuels area where GA is developing the technology necessary to economically produce biofuels derived from microalgae. GA is investigating improved processes for growing and extracting oil from the algae. This oil will be used as a feedstock for the production of biodiesel, which can substitute for petroleum-based diesel fuel. This would help reduce our dependency on foreign oil, and would reduce atmospheric pollution from the burning of fossil fuels. Brine algae were chosen for this project because they can grow in inhospitable conditions in vast, arid areas of the US that can't be used for other crops. They can tolerate the high temperatures, weather conditions, and high-salinity water of the desert southwest.
General Atomics was conceived in 1955 at San Diego, California for the purpose of harnessing the power of nuclear technologies for the benefit of mankind. General Atomics' basic research into fission and fusion has matured into competence in many technologies, making GA and its affiliated companies one of the world's leading resources for high-technology systems development ranging from the nuclear fuel cycle to remotely operated surveillance aircraft, airborne sensors, and advanced electric, electronic, wireless and laser technologies.
The bus will leave at 8:30am on Monday morning and will return around noon. While this tour is free, there is a limited number of seats on the bus. Thus, please be sure to sign up during the registration to ensure that you can participate in this event.
San Diego City Tour (Tuesday, September 29)
Enjoy San Diego journey through the vibrant downtown area's Gaslamp Quarter with its old world buildings. Travel along The Embarcadero with wonderful harbor views, home of one of the oldest merchant sailing ships in the world and the longest serving aircraft carrier in US Navy history, USS Midway. Drive through Balboa Park with its unique Exposition Museums. A drive across the Bay to Coronado with its charming streets, beautiful beaches and National Historic Landmark Hotel del Coronado is also included. Visit to La Jolla, known as the Jewel of the Pacific, a charming seaside village with many upscale shops and eateries with panoramic ocean views. Visit colorful Old Town, California's birthplace.
The bus will leave the hotel at 9 am and return around 4 pm. Please note that this event will take place during the technical sessions and thus it is geared towards spouses and guests that may not be attending the technical sessions.
San Diego Wild Animal Park Tour (Wednesday, September 30)
This tour is canceled.
Please sign up for all tours during registration.