Exhibit Fee:
10′ x 10′ Booth Space with one Exhibitor Registration – $1,100
10′ x 10′ Booth Space with two Exhibitor Registrations – $1,600
Exhibit Floor Plan: Download PHM 2012 Exhibits Floor Plan
Exhibitors: Download Exhibitor Descriptions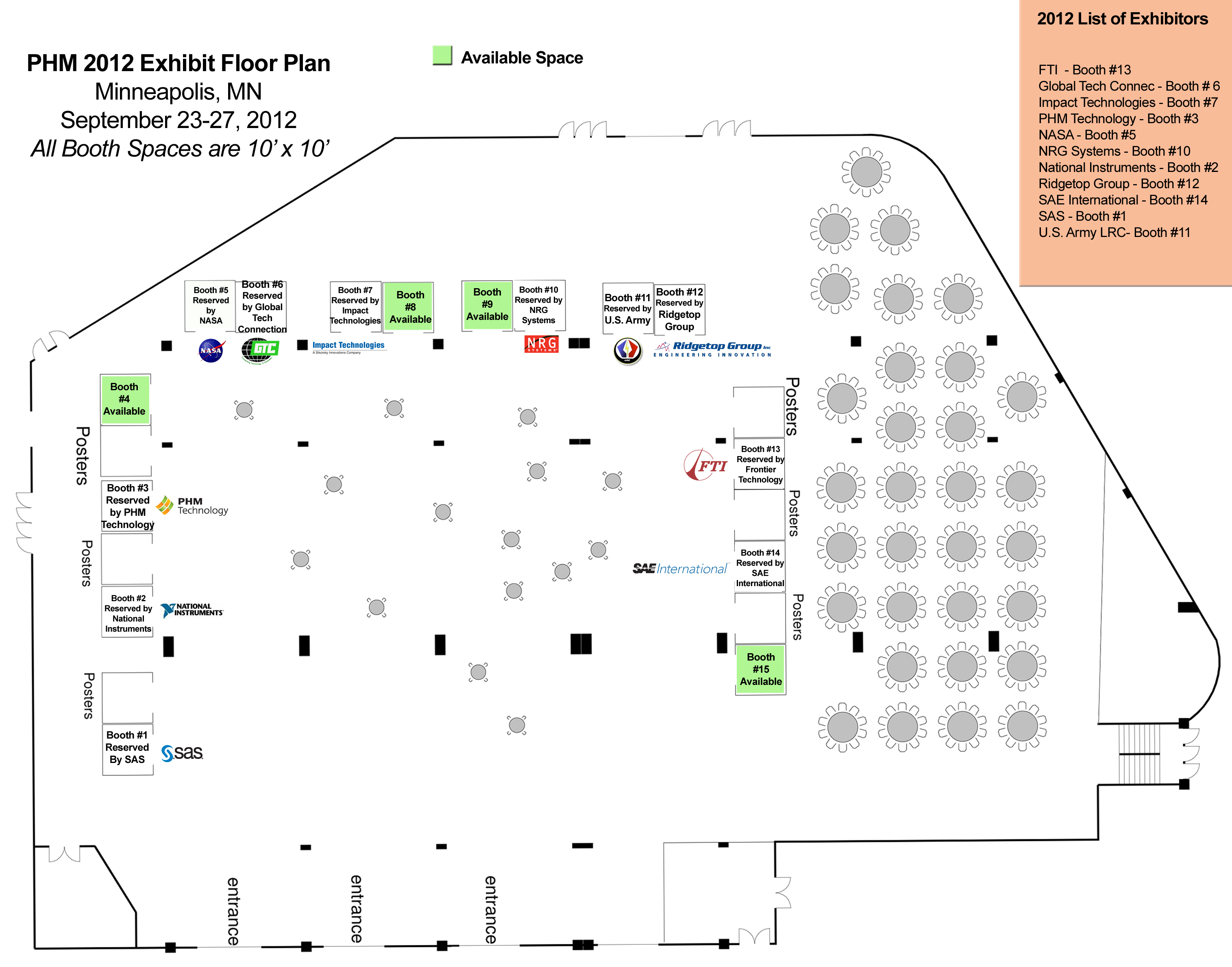 Exhibits Package Includes:
10' x10' booth space with black back and side draping
6' skirted table with two chairs, wastebasket, standard two-line 7"x44" sign indicating company name and booth number (Electric Service must be purchased by exhibitor, see Exhibitor Kit for order form)
Logo and 50 word company description on our website, with a link to your company's website
Post conference Attendee List in electronic format
Exhibit Badges
These badges are intended for personnel who will work in the booth but not attend technical sessions. Exhibitor Badges will provide admission to General Sessions, Breakfasts, Lunches, Session Breaks, Welcome and Poster Receptions, and the Annual Conference Banquet.
Service Contractor/ Exhibitor Kit (Includes Shipping Instructions)
Hubbell/Tyner has been selected as PHM 2012's official service contractor. Please take a moment to review the Exhibitor Kit, advance orders are encouraged; Discount Deadline is Monday, September 17, 2012. Questions contact: Mike Marigold, Exhibitor Service Representative (651) 280-4928 / email: mmarigold@hubbelltyner.com.
Contacts
If you are interested in reserving exhibit space, please contact Jeannie Holmes or Seth Kessler.
Exhibits Schedule
Monday,
September, 24 2012
Exhibitor Move-In
1:00PM–4:30PM
Monday,
September, 24 2012
Welcome/Exhibitor Reception (Exhibits Open)
5:30PM–7:30PM
Tuesday,
September, 25 2012
Exhibits Open – Exhibit Hours
9:00AM–1:00PM
Tuesday,
September, 25 2012
Exhibits Open – Exhibit Hours
2:00PM–4:00PM
Tuesday,
September, 25 2012
Poster Reception (Exhibit Hall) (Exhibits Open)
5:30PM–8:00PM
Wednesday,
September, 26 2012
Exhibits Open – Exhibit Hours
9:00AM–1:00PM
Wednesday,
September, 26 2012
Exhibits Open – Exhibit Hours
2:00PM–4:00PM
Wednesday,
September, 26 2012
Exhibitor Tear Down
4:00PM–6:00PM
Thursday,
September, 27 2012
Exhibitor Tear Down & Move-Out
8:00AM–12Noon